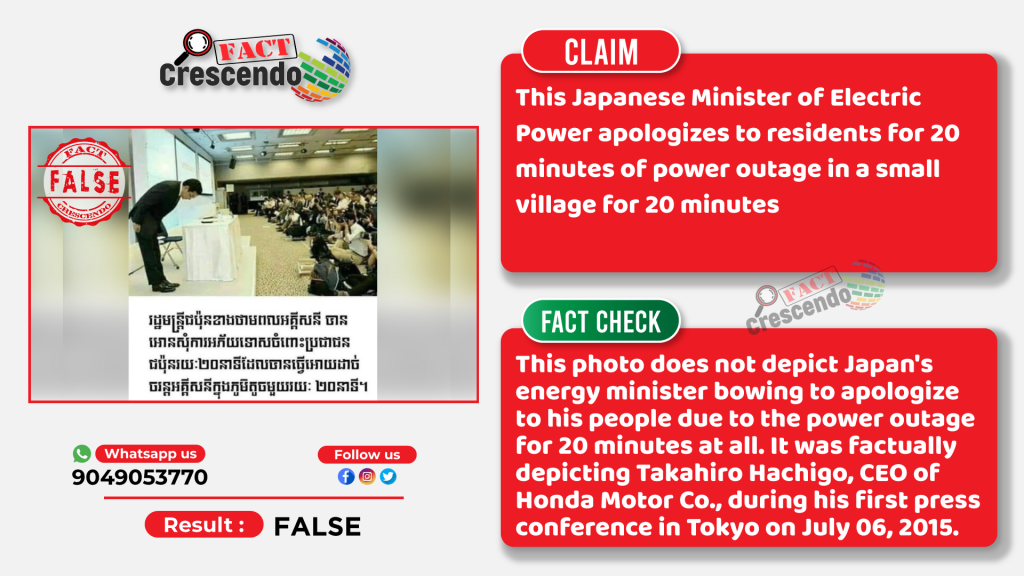 Politeness is one of the core traits of Japanese culture. In this context, a photo claiming to be scenes of the Japanese Minister of Electric Power, bowing down and apologizing to the public for 20 minutes, owing to a 20 minute power outage, has been viral among Cambodian Facebook users. However, after running a Google Reverse Image search, it proves to be a misattributed claim. This is about our investigation of the bizarre claim.
Social Media Claim
On February 21, 2021, one of the Facebook pages called Success Today posted a photo showing a scene of a man bowing in front of a large group of journalists. It was claimed that the person bowing down was Japan's Energy minister who was apologizing to the Japanese public for a 20 minutes power outage in a small Japanese village for the same duration of 20 minutes. This claim has been shared more than hundreds times by Khmer-speaking Facebook users.
The following image was captured from the Facebook user above, describing how Japanese people are well responsible.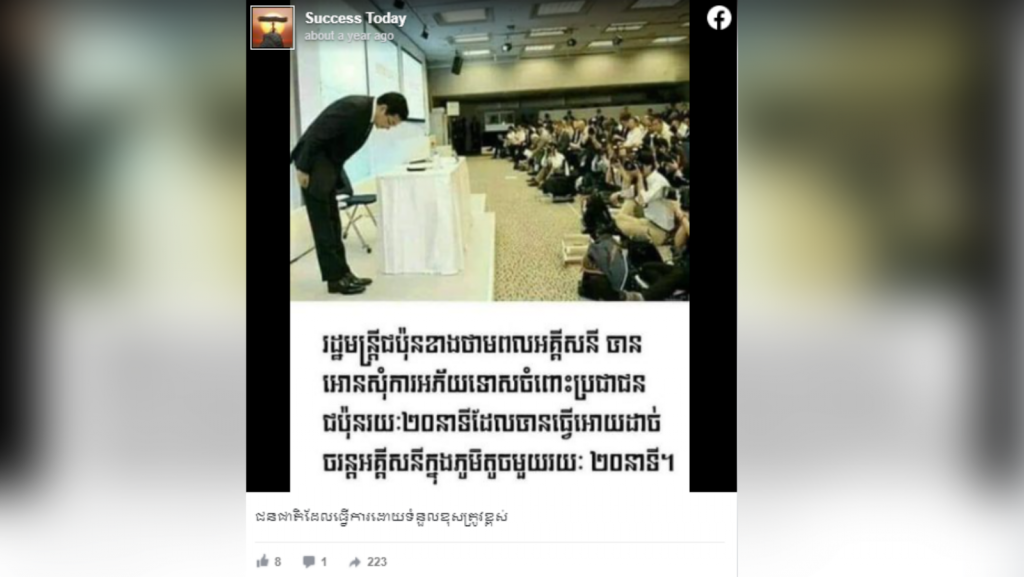 Similarly, this photo attached with the same claim above was also found and distributed by another user which is available here as well.
Fact Check
Fact Crescendo Cambodia had started to check and verify this photo directly by running a Google Reverse Image search, which brought us to the sources containing the following photos.
An exact photo of the same format and shape was found on Alamy, a British privately owned stock photography agency launched in September 1999. This page provides details about this photo, in which Mr. Takahiro Hachigo, the newly appointed President and CEO New Honda Motor Co. held his first press conference in Tokyo, July 6, 2015.
Hachigo, who joined Honda in 1982, was in charge of developing the first-generation of U.S.-built Odyssey minivan, which was launched in 1999 primarily for the U.S. market.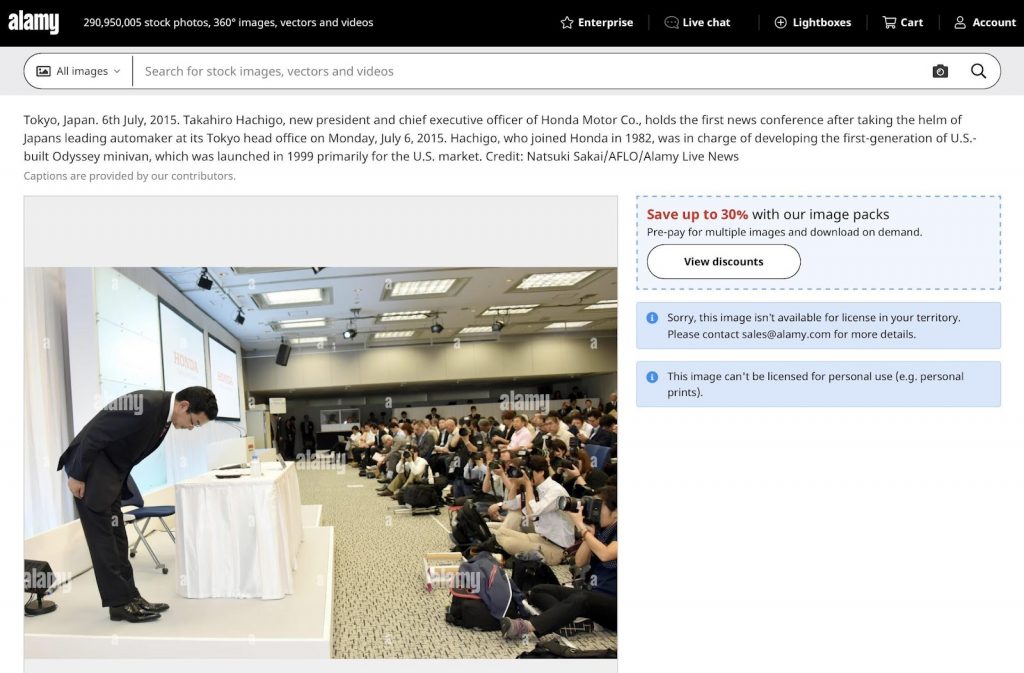 The above case was also verified by our internal team in Sri Lanka (Fact Crescendo Sri Lanka), with the same conclusion that the claims of the Japanese Minister of Energy bowing in front of the media for 20 minutes after a 20-minute power outage in a small village is false. In fact, our team also found out that there are no official cases or information of an apology for a 20-minute power outage by the Japanese Minister of Energy at all.
Fact Crescendo Link | Archived Link
Hosaka Shin is known as the Commissioner of the Agency for Natural Resources and Energy at the Ministry of Economy, Trade and Industry (METI) since July 2020. As head of the agency, he oversees all areas of energy policy including developing Japan's Strategic Energy Plan, assuring secure energy supply, regulating the electricity & gas sectors, as well as promoting renewable energy and conservation.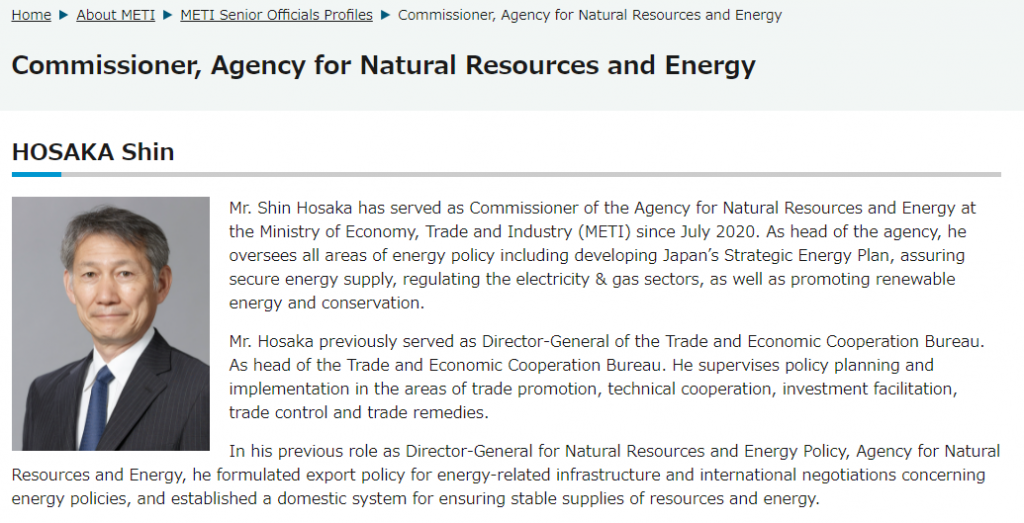 Follow Us and Stay Up to Date with Our Latest Fact Checks.
Facebook Twitter Telegram Google News
You may find the details of this fact-check in Khmer language here as well.
Conclusion
Fact Crescendo Cambodia found that the photo attached with the claim posted by the Facebook page above is false. This photo does not depict Japan's energy minister bowing down to apologize to his people for a 20 minute power outage. It was factually depicting Takahiro Hachigo, CEO of Honda Motor Co., during his first press conference in the new position in Tokyo on July 06, 2015.

Title:Honda's CEO Falsely Claimed as Japan's Energy Minister's Public Apology!
Fact Check By: Kakada Sim
Result: False